It's a beautiful Saturday and I'm looking out my window, typing while the sun highlights every speck of dust and crumb on our dinner table. I'm recovering from another busy week and fortunately, writing doesn't demand that much physical dexterity. My son is watching one of his favorite shows while getting over some cough he picked up in school last week. I've drank all the coffee in the press and have moved onto Starbucks Via while the kid needs to feed every 25 minutes. At some point I hope to be able to get outside with him before the rest of the day disappears. 
This morning I opened up my computer to see my first unread email from SLR Lounge with the subject heading "5 REASONS YOU SHOULDN'T START A PHOTOGRAPHY BUSINESS." I promptly opened it and the first point really resonated with me: 
Photography And The Business Of Photography Differ. 
OK. Well that's kind of a given, but at the same time, it's also a statement that makes one really consider the challenges that come with starting a business. To me, I feel as if I've taken off the proverbial climbing rope and started free soloing up Yosemite's 3,600 foot El Cap, without ever rehearsing or climbing it before. Not knowing what's ahead, not knowing the weather forecast, or even having a map of the route.
What I do know, is that I have to make it. Falling isn't an option. 
In my last blog, I shared a little bit about my life growing up in America as a climber, with the diversity story I wrote for the American Alpine Club. Today, I thought I'd share a quick perspective about another side of my life that only my close friends or those who grew up with me would know. A story about how entrepreneurship runs in my family.

Shortly after escaping Vietnam to America in 1980, my mother began the long and arduous journey in pursuit of the American Dream- immigrating to America, starting a business, buying a home, and living happily ever after (you can read the story of how we literally started from peanuts in my last blog here). She worked tirelessly to get me through private school, living in pretty good neighborhoods, and then providing me the freedom to head off to a college I wanted. In 1991, my mother remarried to a great guy who was also a self starter.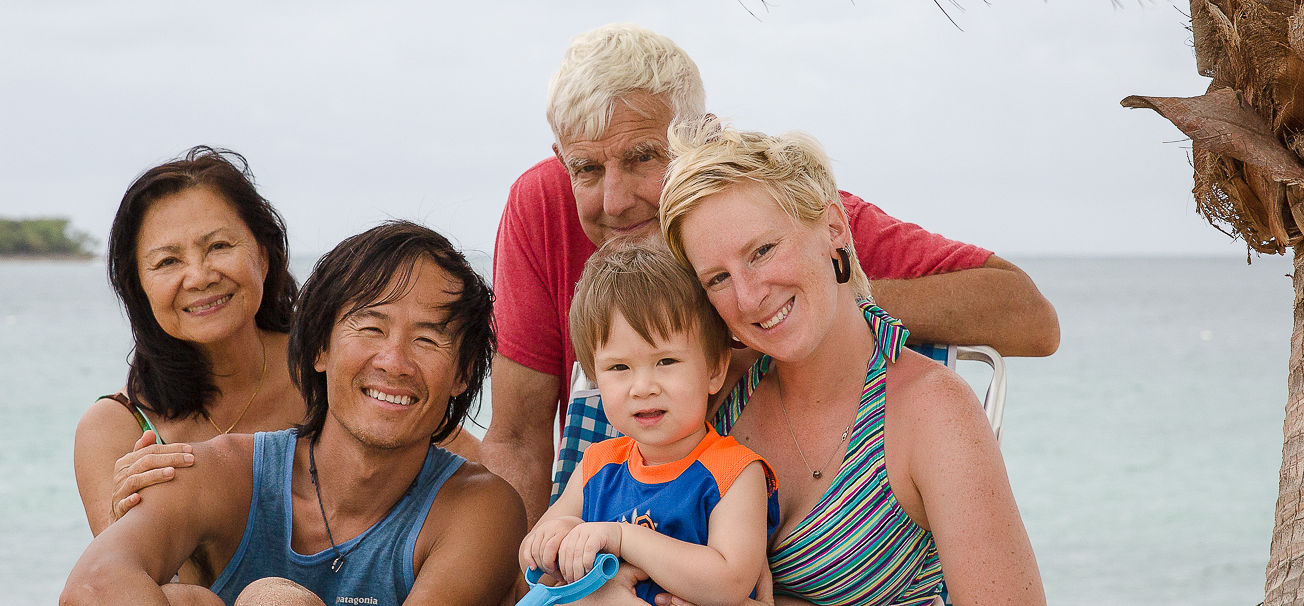 My mother, father (Charles Allen), son Luc, and wife Heidi, 2017
My Mother Khang Dao Allen, circa 1988
With my mom and dad successfully running their own businesses for decades, I often joke that I shouldn't be so apprehensive (OK, I may have used the words chicken and shit) about starting on my own. But that's the thing...I do know a thing or two about what it takes to run a business. It's hard work and it means working 16+hour days. It means leaving the security of a regular paycheck and putting your heart and soul into the work you do and constantly be looking into every way that you can stay ahead of the game. I remember times that my mother would work for such long hours that she'd collapse and end up going to the hospital. Even today, and on their own volition, both my parents haven't officially retired from work. 
Now that I've taken only the initial steps out into independence, I'm already drawing parallels to how I grew up with my mother. Fortunately, my son is a whole hell of a lot better behaved than I am...so far. So with all things said, I have it pretty good and definitely don't have the challenges she had. Which means I have even more pressure to make sure I don't fail. I have the support of my wife and family, whereas my mother didn't have anyone for several years. My biggest challenge these days is the race between what I want or need to do for the business and balancing it with wanting to spend as much time as possible with my wife and son. 
Perhaps the biggest lesson I've learned from all the years growing up with my mother, aside from her simply being my all-time hero, is that you have to just go for what you want, and believe that it can only get better when you put everything you have into it. 
One of the many great articles covering my mothers story. March 1994